Before the Oscars, Some Films Face the Truth Test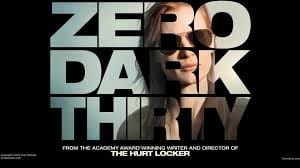 LOS ANGELES — About 45 minutes into "The Big Short," Adam McKay's "true story" — or so it says on the billboards — of Wall Street greed, the actor Finn Wittrock turns to the camera and confesses, "O.K., so this part isn't totally accurate."
No, he admits, the real-life counterpart to his character didn't find a road map to the housing crisis of the mid-2000s lying around the marbled lobby of a JPMorgan Chase tower. Actually, he and his investing partner had heard and read about it elsewhere. But, hey, lighten up. It's just a movie.
Mr. McKay and his team were trying to pre-empt the dreaded Oscar-season truth squad. Once again, confrontations between an expanding field of reality-based movies and a growing pack of watchdogs, mostly of the armchair variety, have been turning the annual awards ritual into a brutal game of "gotcha." "Nobody expects a Hollywood movie to be journalism," a columnist in The Wall Street Journal wrote about "The Big Short" last month in a critique that proceeded to expect just that.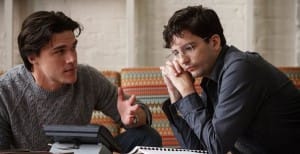 Finn Wittrock, left, and John Magaro in "The Big Short." Credit Jaap Buitendijk/Paramount Pictures
In the lead-up to the Academy Awards — nominations will be announced next week — and Sunday's Golden Globes, more than a dozen high-profile dramas and comedies have faced factual questions, including "Spotlight," "Joy," "The Revenant," "Concussion" and, of course, "The Big Short." Depending on the intensity, challenges of this sort can knock films to the back of the Oscar pack, awards strategists say. (It certainly didn't help "Zero Dark Thirty," which ran into severe scrutiny in 2013 over its depiction of the C.I.A.'s interrogation tactics.)
To some degree, sophisticated filmmakers have provoked the nit-picking by relying more heavily on reality. The words "based on a true story" give marketers a hook, something to grab ticket buyers looking for something different than the brands and pre-existing characters — Marvel, Lego, Transformers, Superman, Star Wars — delivered to summertime and holiday audiences in the form of sequels and remakes.
Yet movies that claim the truth are bound to be measured against it. "It's astounding how little truth there is in 'Truth,'" said the CBS spokesman Gil Schwartz, taking a shot at this season's boldly titled film about his network and its handling of a disputed, and also much defended, "60 Minutes II" story about George W. Bush.
And watchdogs, self-appointed and otherwise, with backing from an Internet full of facts (or approximations thereof), are also inspecting the underpinnings of films much more closely. Movie takedowns tend to generate a torrent of digital readership, especially when films touch on topics that are still the subject of heated debate. In some cases, the real-life counterparts are mobilizing the pushback; as dramatizations of real-world events surface more quickly, they see the personal stakes as enormous.
Debates over artistic license seem inevitable.
Possibly the most serious recent dispute has involved the Universal Pictures drama "Straight Outta Compton," which emerged as an Oscar contender last month with the nomination of its cast — including Paul Giamatti, as the music entrepreneur Gerald E. Heller — for a Screen Actors Guild award. A few weeks earlier, Mr. Heller had filed a defamation and infringement suit against the filmmakers, seeking at least $115 million in damages, claiming that his portrayal in the film was "littered with false statements" that "aim to ridicule and lower him in the opinion of the community."
Universal and the film's producers are preparing to contest the claims in federal court in Los Angeles.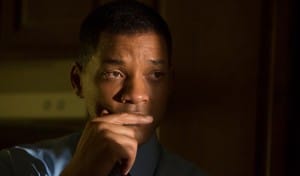 Will Smith in "Concussion.»
In another example, articles in The New York Times have questioned the veracity of Sony Pictures Entertainment's "Concussion," for which Will Smith received a Golden Globe nomination as best dramatic actor for his performance as Dr. Bennet Omalu, a pathologist who helped to expose brain injury in professional football players. One article said the film was softened to appease the N.F.L; a second reported that the family of Dave Duerson, a former player who committed suicide in 2011, objected to the movie, saying it portrayed him inaccurately.
Sony and its filmmakers have stood by "Concussion," offering free tickets to N.F.L. players and team owners. And Thomas E. Rothman, Sony's movie chairman, excoriated The Times in a strongly worded public response in New York at the Paley Center for Media in November. "It was not so we could pull the punches; it was so we could punch hard," he said, referring to an internal legal review that had urged some changes in the script.
Even "Spotlight," Open Road Films' critically acclaimed look at The Boston Globe's investigation of sexual abuse by Roman Catholic priests, has its fact-conscious detractors.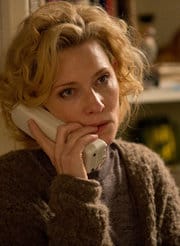 Cate Blanchett in «Truth.» Credit Lisa Tomasetti/Sony Pictures Classics
"Over all, I think the film is a misrepresentation of how the Church dealt with sexual abuse cases," said David F. Pierre Jr., who has criticized the film's veracity online and has challenged The Globe's investigation in his book "Sins of the Press: The Untold Story of The Boston Globe's Reporting on Sex Abuse in the Catholic Church." In a phone interview, Mr. Pierre said that the movie's biggest flaw was its failure to portray psychologists who, as cases surfaced, assured church officials that abusive priests could be safely returned to their duties after treatment.
Tom Ortenberg, Open Road's chief executive, said in an email, in part, "Mr. Pierre is perpetuating a myth in order to distract from real stories of abuse, stories that continue to come to light every day."
Film aficionados tend to find the fact-checking of movies a feckless exercise.
"Movies that are not documentaries are works of fiction, whether or not they deal with real events," A. O. Scott, the co-chief movie critic for The Times, said. "The only people dumb enough not to understand this are certified intellectuals — journalists and college professors, mostly — who need fodder for columns or something apparently important but actually trivial to wring their hands about."
In fact, some of history's best-loved films probably would not have withstood a contemporary fact-checking.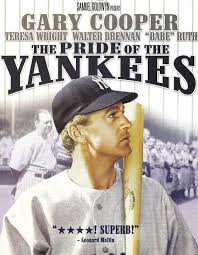 For instance, in "The Pride of the Yankees," the Lou Gehrig biopic that garnered 10 Oscar nominations and one win in 1943, Gary Cooper badly distorted Gehrig's almost sacred farewell speech at Yankee Stadium, ending rather than leading with a famous line about being "the luckiest man on the face of the earth." Elsewhere, a doctor supposedly gives Cooper the harsh truth about his pending death from amyotrophic lateral sclerosis. "It's three strikes," he says. But in real life, doctors, at the request of Gehrig's wife, soft-pedaled the news, saying he might live.
In David Lean's "Lawrence of Arabia," which won seven Oscars in 1963, including the trophy for best picture, Omar Sharif's Sherif Ali was a fictional character — or at best a composite — as were at least a half-dozen central characters. Peter O'Toole, the film's lead, was also nearly a foot taller than the real T. E. Lawrence, who stood about 5 feet 5 inches.
"A great deal of what is now common knowledge about Lawrence flatly contradicts the film," the Columbia professor Edward W. Said wrote in 1989, pointing to inaccuracies deeper than those asserted against, say, "Selma," whose Oscar campaign was hurt by factual challenges last year.
But the film industry's long history of taking liberties with true stories does not stop the sniping.
Eddie Redmayne played Lili Elbe as "crazy," not as a real transgender person, in "The Danish Girl," wrote Erica Keppler for The Huffington Post. Dalton Trumbo was too soft on dictators like Stalin and Hitler, or so said CNSnews.com in its vetting of "Trumbo," an admiring look at that screenwriter's battle with the Hollywood blacklist. No one shot out the windows of the lawyer James B. Donovan's home, as shown in "Bridge of Spies," according to Historyvshollywood.com, and Mr. Donovan, played by Tom Hanks, never saw would-be escapees being executed at the Berlin Wall.
And a word of caution about Ron Howard's "In the Heart of the Sea," based on the true whale ship sinking that inspired Herman Melville's "Moby-Dick." In an interview with Crave Online, the film's screenwriter, Charles Leavitt, noted that he decided to "take liberty here and invent the story of Melville coming to Nantucket to interview the former cabin boy, who is now an alcoholic innkeeper."
But, hey, lighten up. It's just a movie. And they don't give an Oscar for telling the truth.