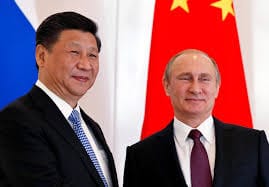 NEW YORK – Russian President Vladimir Putin and Chinese President Xi Jinping have each championed a model of authoritarian capitalism (call it "development with a dictator's face"). But what neither leader seems to have anticipated is that the Russian and Chinese commercial sectors are becoming political forces in their own right, increasingly bringing pressure to bear on policymaking.
Over the past two decades, Russian and Chinese multinational corporations – many of them awash in cash – have become powerful foreign-policy tools for their respective regimes. But they were once seen as modernizing forces that would help open up business and society alike. With energy giants like Gazprom and Rosneft promising to bring commercial values to backward Russia and the newly independent former Soviet states, Anatoly Chubais, a key architect of Russia's privatization program, touted them as the vanguard of a new "liberal empire." (Insofar as these firms also bound the former Soviet republics closer to Russia, so much the better.)
Likewise, in China during the presidencies of Jiang Zemin (1993-2003) and Hu Jintao (2003-2013), the rise of banks like the Industrial and Commercial Bank of China and the Agricultural Bank of China, and of energy and heavy-industry firms like Sinopec, Sinochem, and the China Railway Construction Corporation, were seen as harbingers of modernization. Yet today, no one could mistake these firms for the equivalent of an ExxonMobil or a Microsoft. With top executives often parachuting directly into the boardroom from high political office, Chinese mega-corporations have long represented a merger of business and the state.
This suggests that China wants to avoid the kind of radical steps that Russia is taking. The Kremlin is now actively competing with the US to influence the course of events in Venezuela, and has described the US attempt to deliver humanitarian aid across the Colombia-Venezuela border as a ruse to smuggle in weapons for the opposition.
At the end of the day, Venezuela can't hold a candle to the strategic importance of these two firms. And for the Kremlin, the calculus is the same: the prerogatives of business define the national interest. But, perhaps to Putin's chagrin, in Venezuela that calculus has produced the opposite outcome.