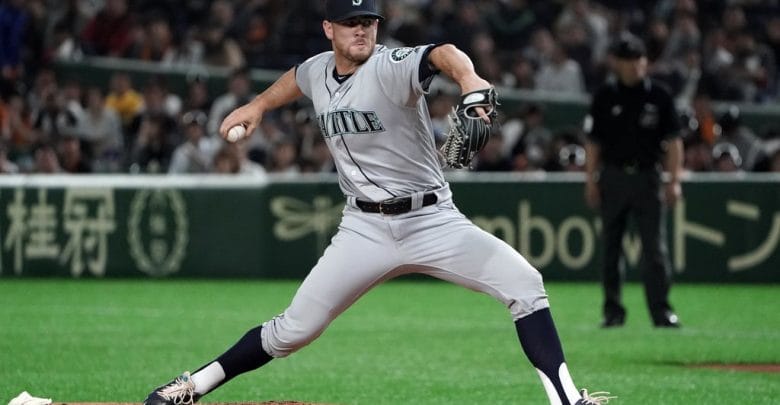 As the M.L.B. Season Opens in Japan, at Least the Dirt Is Familiar
TOKYO — Major League Baseball began its 2019 season on Wednesday in Japan with the first of two games between the Oakland Athletics and the Seattle Mariners at the Tokyo Dome. But don't say they are playing on foreign soil.
That's because 12 tons of clay, silt and sand mixtures were shipped by boat from the United States to make the batter's box, pitcher's mound, base pits and bullpens feel like home. The dirt swap was news to the veteran Seattle pitcher Mike Leake, who nonetheless gave his stamp of approval after starting the first of two exhibition games each club played against teams from Japan's Nippon Professional Baseball as a tuneup.
"Oh, you mean we weren't pitching on the same mound the Japanese teams use during their season?" Leake said Sunday. "It felt like the same mound that we pitch on in the States. The only thing I would say is that maybe they put a little too much water at first, so some of the clay stuck to my spikes in the first inning, but that happens at home, too. After that, it was perfect."
For Murray Cook and his traveling crew of three, that is the highest praise. Cook has been a consultant for M.L.B. on field construction and maintenance for nearly three decades, and he serves as the unofficial head groundskeeper for any league-sanctioned event played on a diamond not ordinarily manicured by one of its 30 teams.
"The commissioner's office and players' association have a big plan to develop the game worldwide and with that they need fields," said Cook, who is also the president of the commercial landscaper BrightView's sports turf division in Pennsylvania. "So I get tasked with these fun projects from them to create these canvases for the players to go out and perform."
He was quite familiar with the stadium for Wednesday's game, the fifth time M.L.B. had opened a season at the Tokyo Dome — the most of any ballpark outside its 30 member stadiums in North America. A packed crowd of 45,787 came out to see what is likely to be Ichiro Suzuki's final pro appearances in Japan. The fans were treated to an offensive showcase won by the Mariners, 9-7.
It was a different story in 2000, when the Chicago Cubs and the Mets split a pair of games here in the first regular-season games outside the United States and Canada.
Aside from thrilling plays like Benny Agbayani's extra-inning, pinch-hit grand slam for the Mets, that series included embarrassing moments that baseball would prefer not to repeat: Robin Ventura twice slipped in a batter's box that was made of the softer dirt used in Japanese baseball.
Players described it as similar to the loose soil used with potted plants, and it caused more headaches when an all-star team came over for a postseason tour in 2004. Roger Clemens's foot was sore and Dontrelle Willis developed pain in his back, Cook said, because they were sliding more than usual on the pitchers' mound.
Cook was camping with his family in the Blue Ridge Mountains when the league summoned him to Japan in an emergency.
"They were all complaining about how soft the mounds were," Cook recalled. "I said, 'Well, we can fix that.' I came over and whipped up a concoction that got them through the rest of that tournament."
Since then, the league has taken greater steps to ensure that Leake's experience is the norm. Cook estimated he had been to Tokyo four times since the games were announced last spring. In between, he spent time in London, Mexico, New Zealand, the Dominican Republic and Peru — among other places — to work on fields for games, clinics and other events over the past year. His challenge is to ensure that wherever the game is taking place, the field is always up to M.L.B.'s competitive and safety standards.
There are plenty of other issues to address besides the dirt. For this series, Cook's work began on March 4 and included helping lay a new, previously planned artificial turf surface at the arena. The bases used in Japan are also fluffier and rise to a crown, while American bases are harder and flatter. They also anchor into the base pits differently, so Cook not only has to bring bases from home but also has to change the holes into which they are fitted.
Japan also uses 12 permanent nylon markers — four around each batter's box and four around the catcher's box — as guides for laying chalk lines around those spaces; in the United States, a metal template is brought out before each game for the markings. In past events here, M.L.B. catchers complained that the half-inch-high tufts were distracting, and they would pull them out of the ground and toss them away. Cook now stores one of his metal templates at the Tokyo Dome, along with an array of other handy supplies.
Cook's job may be easier in Japan than it is almost anywhere else because of baseball's deep history here. The 12 tons of dirt for this series is a smaller shipment than previous ones because he has been able to find suitable domestic materials to complement his imported soil.
But when the Yankees and the Red Sox play a series at London Stadium in June — M.L.B.'s first regular-season games in Europe — Cook will need to export 300 tons of dirt to England to build a field entirely from scratch.
With his vast experience, Cook will be up to the task, but he noted that there was one item in his field-conversion process that still bedevils him.
While he has become an expert in the nuances of importing American soil products through customs in many countries, he estimated that Japanese security agents had confiscated seven metal tape measures from him over the years. This week, he vowed, he would remember to tuck it into his checked luggage after the Mariners and the A's are finished.