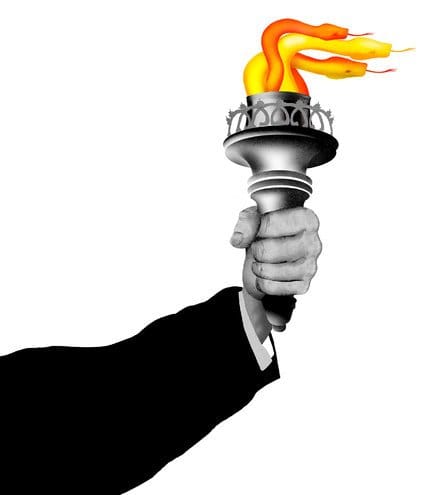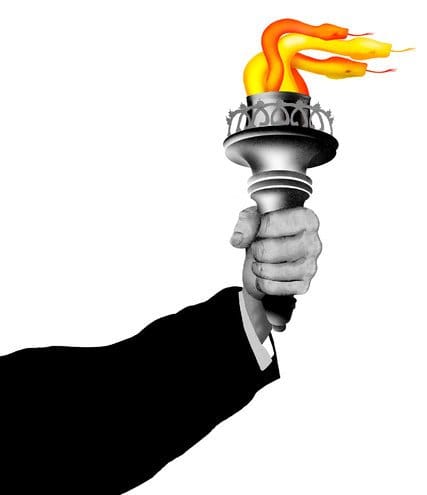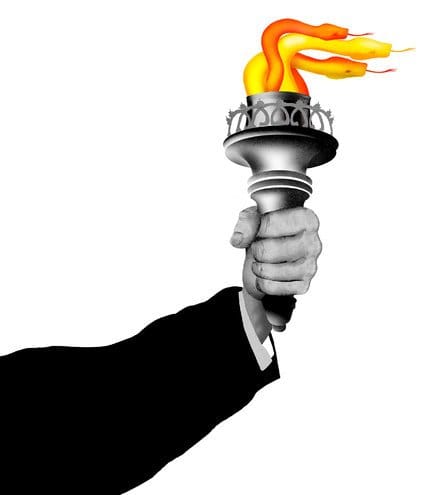 For a fleeting moment Tuesday, President Trump seemed to signal he would do the right thing on immigration. At a 90-minute meeting with congressional Republicans and Democrats, much of it televised, he said he'd be willing to "take the heat" for a broad immigration deal of the sort urgently needed by the country and despised by his hard-core base.
Alas, it was all a charade. The real Donald Trump was back two days later with his now notorious "shithole" remark, asking why the United States should accept people from places like Haiti or Africa instead of nice Nordic countries like Norway, and then tweeting his tiresome demands for a "Great Wall" along the Mexican border.
Never mind that Norwegians are not clamoring to leave what is rated as the happiest nation on earth, and setting aside renewed questions about Mr. Trump's fitness, the flip-flop left the issue of immigration more confused than before.
Where to begin? How about with a simple observation: The president of the United States is a racist. And another: The United States has a long and ugly history of excluding immigrants based on race or national origin. Mr. Trump seems determined to undo efforts taken by presidents of both parties in recent decades to overcome that history.
Mr. Trump denied making the remarks on Friday, but Senator Richard Durbin, Democrat of Illinois, who attended the meeting, said the president did in fact say these "hate-filled things, and he said them repeatedly."
Of course he did. Remember, Mr. Trump is not just racist, ignorant, incompetent and undignified. He's also a liar.
Even the president's most sycophantic defenders didn't bother denying the reports. Instead they justified them. Places like Haiti really are terrible, they reminded us. Never mind that many native-born Americans are descended from immigrants who fled countries (including Norway in the second half of the 19th century) that were considered hellholes at the time.
No one is denying that Haiti and some of these other countries have profound problems today. Of course, those problems are often a direct result of policies and actions of the United States and European nations: to name just a few, kidnapping and enslaving their citizens; plundering their natural resources; propping up their dictators and corrupt regimes; and holding them financially hostage for generations.
The United States has long held itself out as a light among nations based on the American ideal of equality. But the deeper history tells a different story.
The sociologists David Scott FitzGerald and David Cook-Martin have shown that the United States pioneered racially based exclusionary immigration policies in the Americas in the late 18th and 19th centuries. (Not long before he was elected president, for example, Theodore Roosevelt asserted the bigoted but then-common view that the Chinese should be kept out of America because they were "racially inferior.")
It should sober Americans to know that authoritarian governments in Chile, Cuba and Uruguay ended racist immigration policies decades before the United States.
The current turmoil over immigration conflates several separate issues. One is DACA, the Deferred Action for Childhood Arrivals program, which has provided temporary work permits and reprieves from deportation for undocumented immigrants brought to the United States as children. These are the so-called Dreamers, who number about 800,000.
Another issue is the Temporary Protected Status program under which undocumented foreigners who were in the United States when disaster or conflict struck their homeland are allowed to remain in the United States. In November, the Trump administration ended the protection for about 60,000 Haitians, and on Monday the administration lifted it for almost 200,000 Salvadorans, most of whom have been in the United States for two decades.
A third issue is the future of the roughly 11 million undocumented immigrants who have come to the United States over decades and have effectively integrated into American life. The Trump administration has ordered a broad immigration crackdown against them.
And finally there's President Trump's imagined wall.
What is concerning is not the wall, or the word "shithole" or the vacillation on the Dreamers or the Salvadorans. It's what ties all of these things together: the bigoted worldview of the man behind them.
Anyone who has followed Mr. Trump over the years knows this. We knew it in the 1970s, when he and his father were twice sued by the Justice Department for refusing to rent apartments to black people. We knew it in 1989, when he took out a full-page newspaper ad calling for the execution of five black and Latino teenagers charged with the brutal rape of a white woman in Central Park. (The men were convicted but later exonerated by DNA and other evidence, but Mr. Trump never apologized, and he continued to argue as late as 2016 that the men were guilty.) We knew it when he built a presidential campaign by demonizing Mexicans and Muslims while promoting the lie that America's first black president wasn't born here. Or when, last summer, he defended marchers in a neo-Nazi parade as "very fine people."
Just last month, The Times reported on an Oval Office meeting on immigration during which Mr. Trump said that the 15,000 Haitians now living in the United States "all have AIDS," and that Nigerian immigrants would never "go back to their huts" in Africa once they had seen the United States. See a pattern yet?
Donald Trump is by no means America's first racist president. But he ran a campaign explicitly rooted in bigotry, exclusion and white resentment. To his die-hard but ever-shrinking base, comments like those he made Thursday only reaffirm his solidarity with the cause. The Daily Stormer, a neo-Nazi website, certainly saw it this way. "This is encouraging and refreshing, as it indicates Trump is more or less on the same page as us with regards to race and immigration," the site wrote in a post.
The meeting at which Mr. Trump spewed his vulgarity was meant to be a discussion of bipartisan immigration proposals by Senator Lindsey Graham, Republican of South Carolina, and Mr. Durbin. Two other Republicans, John Kasich and Jeb Bush Jr., are the authors of an Op-Ed article in Thursday's Times arguing against the forced expulsion of undocumented immigrants who have made a home in the United States. This shouldn't be a hard call, especially with the economy growing modestly but steadily and unemployment hovering around 4 percent.
Instead, Republicans in Congress are spending most of their time finding ways to avoid talking about their openly bigoted chief executive. Some claimed not to have heard what Mr. Trump said. Others offered tepid defenses of his "salty" talk. House Speaker Paul Ryan called Mr. Trump's comments "unhelpful," clearly wishing he could return to his daily schedule of enriching the wealthiest Americans.
Mr. Trump has made clear that he has no useful answers on immigration. It's up to Congress to fashion long-term, humane solutions. A comprehensive immigration bill that resolves all these issues would be best. But if that is not possible, given the resistance of hard-core anti-immigration activists in Congress, legislators should at least join forces to protect the Dreamers, Salvadorans, Haitians and others threatened by the administration's cruel and chaotic actions.