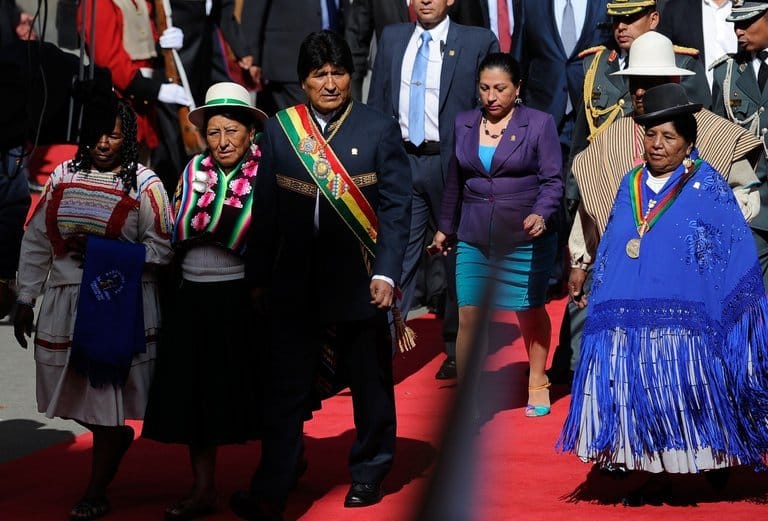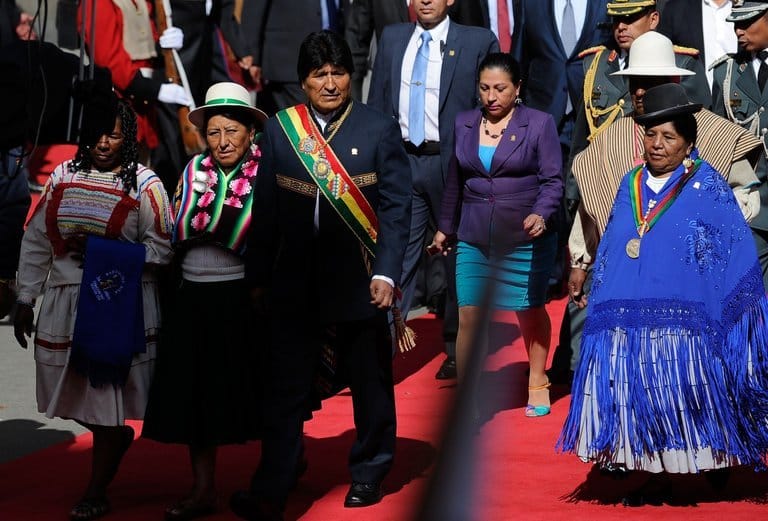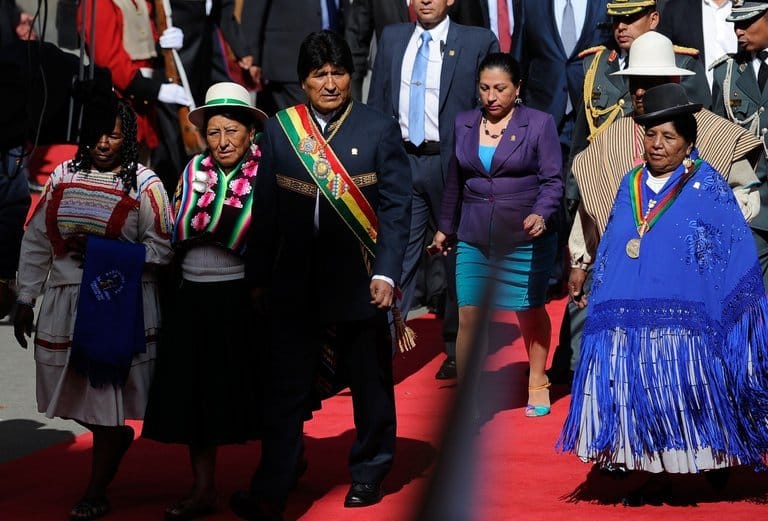 President Evo Morales of Bolivia, center, accompanied by deputies, heads to Congress in the capital, La Paz, to deliver his annual message to the nation on Jan. 22, marking his 12th year in power. Credit Jorge Bernal/Agence France-Presse — Getty Images
LA PAZ, Bolivia — When he was 46, Rene Paucara voted for Evo Morales, helping elect him as Bolivia's first indigenous president in 2005.
At 56, Mr. Paucara, a doorman in El Alto, Bolivia's second-largest city, voted with the majority again, but that time to reject a 2016 referendum to let Mr. Morales seek a fourth term.
Now nearing 60, Mr. Paucara says he is fuming: Mr. Morales has said he will run again anyway. The president has been aided in the courts, which threw out the country's term limits, describing them as unfair to politicians like Mr. Morales, a leftist who has reshaped Bolivia in his dozen years in power.
Mr. Paucara now fears that if the president wins again next year, he may be well on track to keep the job for life, unwilling to hand over his office to any successor.
"He said he'd govern listening to the people, but that's not the case now," Mr. Paucara said of Mr. Morales as he stood at the entrance of the building where he works. "No means no," he said, referring to the results of the referendum.
Mr. Morales's determination to continue governing his landlocked country has echoes elsewhere in the region, where a stable grid of democracies suddenly looks a lot less solid. Corruption scandals have rocked Ecuador, a successful impeachment brought down a president in Brazil and an attempt to remove Peru's president from office failed by only a slim margin.
In Venezuela, President Nicolás Maduro's leftist government recently banned the three biggest opposition parties from running in a presidential election this year, following a deadly crackdown against protesters. In Honduras, judges overturned a constitutional ban against re-elections, allowing the right-wing incumbent, President Juan Orlando Hernández, to run again. After widespread protests of the results and calls by the Organization of American States for a new election after allegations of vote-rigging, Mr. Hernández declared victory last month, with the support of the United States.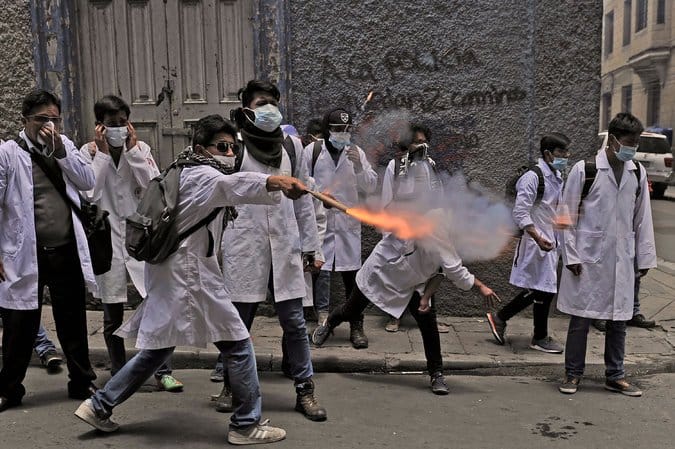 Medical students in La Paz clashed with riot police officers, during a protest last year against a law backed by Mr. Morales that imposes penal sanctions on medical malpractice. Credit Jorge Bernal/Agence France-Presse — Getty Images
"It's undeniable that you're starting to see authoritarian tendencies in parts of Latin America, leaders that are struggling to let go," said Oliver Stuenkel, an international relations professor at the Getúlio Vargas Foundation in São Paulo, Brazil. "It's not limited to the right or left now."
Ben Raderstorf, an analyst at the Inter-American Dialogue, a policy group based in Washington, said recent economic troubles, in an area suffering from stagnant commodity prices, is one factor leading to incumbents trying to hold onto power in Latin America.
"When economies started to turn downward, political machines started to grasp what they could," Mr. Raderstorf said.
Before telling Mr. Morales, 58, in the referendum that it was time he retired, voters had repeatedly backed him, in three consecutive elections, bringing stability to a country that some politicians had considered ungovernable. Five presidents had served in the five years before the swearing in of Mr. Morales in 2006.
When he first entered office, Mr. Morales, part of a group of leftist leaders in Latin America who rose to power at a time of high commodity prices, sought to tackle a history of inequality in Bolivia. He strong-armed foreign energy companies to share more profits with the state, investing the proceeds in education and health care while rewriting the country's Constitution to speed his reforms.
A former union leader for coca farmers, Mr. Morales toured the country wearing traditional clothes and touting his indigenous roots. He built a web of aerial cable cars in the capital, La Paz, connecting the city's poorer periphery to places of employment. By 2012, the poverty rate had dropped by more than half from a decade before.
This momentum has top officials in La Paz arguing that now is not the time to cut short a productive presidency on what they argue are the mere technical grounds of term limits.
"It's historic leadership, it doesn't work in short cycles," said Gabriela Montaño, the head of Bolivia's Chamber of Deputies and a member of the president's Movement Toward Socialism party. "There is simply no leader in Bolivia like Evo Morales."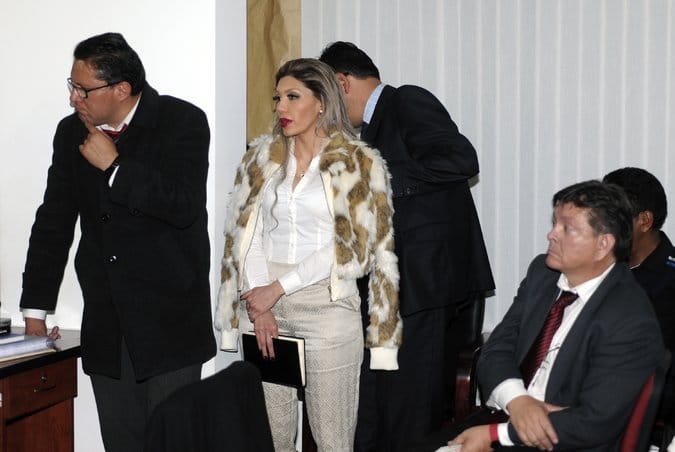 Gabriela Zapata, center, rumored to have been a former girlfriend of Mr. Morales, during her trial in which she was sentenced to 10 years in prison for improper use of public funds in her role as a manager of a Chinese-owned construction company. Credit Agence France-Presse — Getty Images
From her office in the Legislature, Ms. Montaño noted that nearly halfof the country's senators are women and added that her own rise to power would have been impossible under any other president. She then brought up the case of Germany, a democracy where the current chancellor, Angela Merkel, entered office before Mr. Morales and is now trying to form a coalition government after her fourth election.
"I think as Bolivians we have the right to re-elect people as we please," she said.
It is an argument that has gained traction among some economists on the left.
"The question of term limits isn't as simple as it's often portrayed," said Mark Weisbrot, the co-director of the Center for Economic and Policy Research, a left-leaning think tank in Washington, noting that Americans elected Franklin Delano Roosevelt for four terms as he sought to overhaul the economy in the 1930s and lead America's World War II allies in the 1940s.
"Leaders who are trusted enough and have the skills to get elected and preside over serious transformations can be quite rare," he said.
Yet in Bolivia, the argument that a leader like Mr. Morales needs to be allowed to run again is being countered by an adage: That power corrupts those who hold it.
While Mr. Morales's initial years in power were notable for reductions in inequality and increased rights for indigenous people, the more recent news about his government has focused on the misuse of public funds and attacks on the news media.
One scandal involved a woman, Gabriela Zapata, with whom the local news media said Mr. Morales had a romantic relationship. Ms. Zapata, 31, an executive at a Chinese-owned construction company that received large government contracts, was tried and sentenced in 2017 for influence peddling.
Though Mr. Morales has denied any connection to the case, the allegations that he had a relationship with a corrupt businesswoman still follows the president.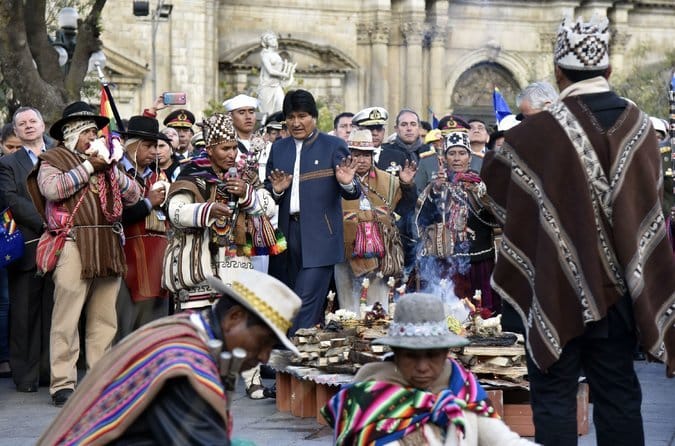 Mr. Morales, who often touts his indigenous roots, participating in an indigenous ritual in La Paz last year. Credit Aizar Raldes/Agence France-Presse — Getty Images
"I think he is a villain," said Gabriela de Carpio, 34, an unemployed mother in La Paz, saying that the increasing frequency of corruption scandals involving the president's confidantes was one reason she voted against the referendum to let him run a fourth time.
The term limits that Mr. Morales wants to jettison were part of a Constitution he had promoted in 2009. Late last year, the country's highest court, which critics say is packed with judges loyal to Mr. Morales, ruled that term limits had violated an international human rights treaty from the 1960s, a ruling many legal experts consider dubious.
"In Bolivia the executive is now the only power and directs all others," said Víctor Hugo Cárdenas, a former vice president, and now an opposition politician. He said he fears attacks against opposition parties in coming years similar to those in Venezuela.
But even though Mr. Morales has said he will run again, that does not mean he will necessarily win in a walkover.
In judicial elections in December, a majority of Bolivians voiced their anger at the government by nullifying their ballots rather than picking from a list of judges that had been preselected by leftists.
But some analysts point out that while many voters are willing to express their anger against the president in referendums and judicial elections, far fewer may be willing to reverse his course by sending an untested opposition politician to the presidential palace.
"We have the perhaps weakest opposition in Latin America," said Jorge Lazarte, a columnist for Bolivian newspapers and political scientist, saying few candidates stand a chance against Mr. Morales's power and charisma.
As Julio Eguino, a 42-year-old psychologist, put it, "the question is, if not Evo, then who?"
While Mr. Eguino is keeping an open mind about who he will vote for next year, he said he has little interest in the opposition and so far has always given Mr. Morales his vote.
He added that the changes in Bolivia begun by Mr. Morales still have a long way to go.
"It's not a question of even five terms for Evo," Mr. Eguino said recently at his home in the capital's middle-class neighborhood of Calacoto. "It might be a question of a century to see the change we need."