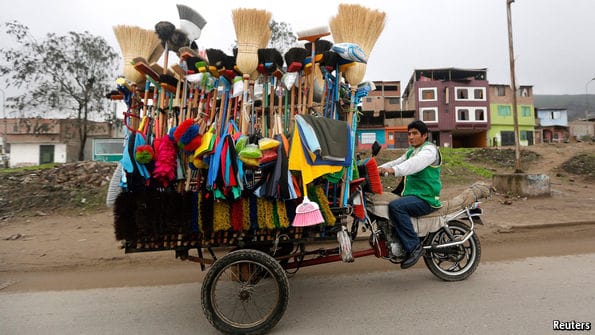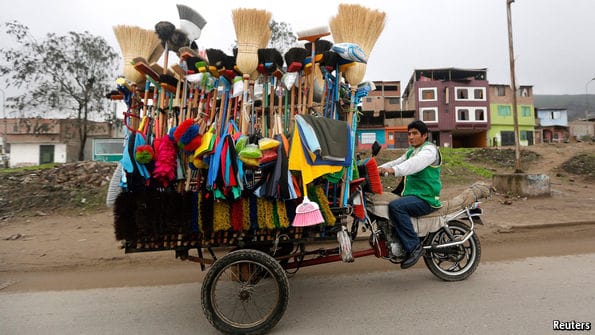 THE Mall del Sur, a new $200m shopping centre at the gateway to Lima's sprawling southern shantytowns, is crowded on Good Friday morning, even though its two anchor department stores are not yet operating. Among the sightseers are Henry Salgado and Olga Falcón. He is a theatre photographer; she ran a small catering business that folded. They plan to vote for Keiko Fujimori in Peru's election on April 10th.
The two friends, both aged 42, remember the 1990s, when Ms Fujimori's father, Alberto Fujimori, ruling as an autocrat, vanquished the Shining Path terrorist group and hyperinflation. He set Peru on a path of 25 years of rapid economic growth before his regime collapsed amid systematic corruption and electoral fraud. "It's true that he got corrupt at the end," admits Mr Salgado. "But all this began then," he says, referring to the mall. Ms Falcón worked in a hotel in Spain for ten years. Now she sees opportunities in Peru.
The country has enjoyed a remarkable growth spurt. Income per person rose at an annual average rate of 3% between 1990 and 2013, compared with 1.7% for Latin America as a whole, according to the World Bank. In 2001, 54.7% of Peruvians were poor; by 2014 that figure had fallen to 22.7%, according to the UN.
In this century, the economy was boosted by high prices for Peru's minerals. It has also been underpinned by a political consensus in favour of a market economy run by technocrats. That consensus survived the election in 2011 of Ollanta Humala, a former army officer, who initially ran on a leftist platform. Almost uniquely in South America, Peru saved part of the gains from the commodity upswing: Luis Carranza, a former finance minister, points out that net public debt fell from 37% of GDP in 2000 to just 3.6% in 2014.
Now the mining boom is over and growth per person has dropped, to less than 2% last year. Much of that comes from the opening of big new copper mines. With metals prices much lower, their impact on the domestic economy is limited: private-sector formal jobs are expanding at only 1% a year.
The task facing the new government is to sustain growth and social progress in a less favourable climate. That means tackling the many inefficiencies that hold Peru back. The conduct of the election may make the next president's job harder. The electoral tribunal has undermined the legitimacy of the eventual winner by disqualifying one of the strongest candidates (see chart).
After initial stumbles, Mr Humala's government started to correct some of the economy's underlying problems. It is trying to support diversification with technology centres, industrial parks and the cutting of some needless regulation. It has stepped up (still low) spending on health and education and subjected teachers to evaluation. It has begun a reform of the civil service and has expanded and professionalised social programmes.
Still pending are some politically contentious or complex reforms. Top of the list is the labour market: the law bars employers from sacking most workers, thus deterring hiring and condemning 70% of Peruvians to ill-paid, insecure jobs in the informal sector. Alonso Segura, the finance minister, says that devolution needs to be rethought. Regional and local governments now get more than half the resources for public investment but are often slow to spend the money. He adds that a bigger effort is needed to cut red tape.
Public investment should be steered away from big-budget projects, such as a gas pipeline to the Chilean border, and towards improving transport and internet connections and public services, argues Alberto Rodríguez of the World Bank. There are no direct flights between Arequipa, the second city, and Trujillo, the third. Lima, the capital, has become an inefficient monster. Mr Humala did nothing to gain consent for several big mining projects stalled by local opposition. Another challenge involves water: more than 60% of the population lives on the Pacific coast, which is a desert.
Crime has become rampant on Mr Humala's watch, unimpeded by a corrupt police force and by seven interior ministers in five years. His lack of political skill meant that he lost control of Congress. And corruption allegations swirl around his ambitious wife, Nadine Heredia (who denies wrongdoing). Under the constitution, Mr Humala cannot run again. His approval rating is around 15%.
Fujimori v anti-Fujimori
That opprobrium highlights Peru's biggest weakness: the near-total absence of genuine political parties, which is both a symptom and a cause of the cynicism Peruvians express towards their leaders. It is also a big factor in the unpredictability of the country's elections, exacerbated this year by the arbitrary and nitpicking application of the law by Peru's electoral authority.
After a campaign marred by the disqualification of Julio Guzmán, a centrist development consultant, and another candidate, the opinion polls suggest that Ms Fujimori will take a strong lead into a run-off ballot on June 5th. She promises continuity in economic policy but has been cagey about reforms.
Her likeliest rival is Verónika Mendoza for the left-wing Broad Front, who wants "profound changes" in economic policy and a new constitution. Aged 35 and a congresswoman, she was close both to Hugo Chávez's regime in Venezuela and to Ms Heredia before breaking with the Humala government. A relaxed and articulate campaigner who speaks fluent Quechua, the main Amerindian language, she is the clearest beneficiary of the exclusion of Mr Guzmán. The polls suggest she is poised to overtake Pedro Pablo Kuczynski, a former economy minister. He is honest, liberal and has the best-qualified team of advisers. But he has handicaps: he is 77, and a former investment banker who struggles to connect with ordinary Peruvians.
Two issues have dominated the campaign. The first is anger at the political establishment. That is why Mr Guzmán surged past Mr Kuczynski in the polls and support for Alan García and Alejandro Toledo, both former presidents, plummeted. The desire for change is now benefiting Ms Mendoza and, to a lesser extent, Alfredo Barnechea, a journalist and consultant campaigning as a European-style social democrat.
Second, there is the battle between Ms Fujimori and "anti-Fujimorismo", the issue that will dominate the run-off ballot. Her father continues to be revered by around 20% of Peruvians. Many poor people recall fondly that he travelled around the country opening schools and health clinics. But a larger number of Peruvians abhor him for having shut down Congress in a "self-coup" in 1992, for his human-rights abuses and for the unprecedented corruption of his regime, for which he is serving jail sentences.
Ms Fujimori, aged 40 and educated in the United States, lost narrowly to Mr Humala in 2011. Since then she has expanded her political base and edged towards the centre. She has dumped some of her father's aides and admits that he made "several political mistakes". According to Martín Tanaka, a political scientist at Lima's Catholic University, "she promises efficiency and order, and is a symbol [of Fujimorismo] with a friendlier and more reasonable face" than her father. In any event, her party, Popular Force, looks likely to win almost half the seats in Congress.
But will all this be enough for Ms Fujimori to win the presidency? She is in a much stronger position than five years ago. Her rival, Ms Mendoza, shows no desire to make the move from left to centre that brought Mr Humala victory, although she says she would not copy chavista Venezuela. Should Mr Kuczynski make it onto the June ballot, he would have a better chance of uniting the anti-Fujimori vote.
It is symptomatic of Peru's political weakness that its most powerful ideological current is a purely negative one. Ms Fujimori's critics worry that her victory would retroactively legitimise her father's abuses against democracy. Around 30,000 joined a protest march on April 5th to mark the anniversary of Mr Fujimori's shutdown of Congress. "I think she's a democrat," Mr Tanaka says of Ms Fujimori, "but it's true that she leads a movement where many are not convinced democrats." In a campaign debate on April 3rd Ms Fujimori unveiled and signed a one-page document in which she promised "unrestricted respect for democracy and human rights", and declared she would never seek to change the constitution to stay in power or repeat the "self-coup".
Unless Mr Kuczynski clings on to second place, Peru faces a battle between the heir to its most controversial president of the 20th century and a neo-chavista. And it will elect its first woman president. Whether it will get the reformist government it needs to sustain its progress is less clear.